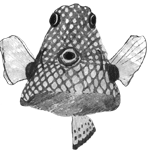 About Us
Tom Drewien has over forty years of diving experience and has spent nearly ten years doing underwater videography.

He is certified as an open water and Nitrox diver by PADI and as a divemaster/rescue diver by NAUI.

Tom has always been an observer-diver never a predator. He is always careful to create the least disturbance to the underwater worlds that he visits.

Tom majored in marine biology and studied in California at Hartnell, Humboldt State and Moss Landing Marine Laboratory.
Our Name
Silver-footed Thetis, daughter of the seas' ancient and mother of Achilles, is one of the Nereid goddesses of Greek mythology. She is most dear to mariners of the Mediterranean. When becalmed on a voyage, sailors would be on the lookout for the rippling of the waters' surface indicating an oncoming wind. This they called the footsteps of Thetis or "Thetis Breeze."